The Big One
When I was a senior in high school, I remember calculating my age for the year 2000, and saying to myself, "My God, I can't imagine that I'll ever be that old!". Well, luckily enough, I made it to the year 2000, and then some.
I had a lot of help celebrating My Big One (1952-2002) from family and friends.

It's Tuesday, this must be Brussels.

September is a great month to visit Belgium and northern France, so this was a good thing for my American visitors. My very best friend, Patti Henson, managed a rare guest appearance and arranged to bring some traveling companions along with her: Suzanne Graham and Susan Lee. We coordinated their quick European tour to coincide with my b'day activities. Before Susan's arrival, Patti, Suzanne and I managed to "do" the Brussels tourist thing, including a visit to the flower market at the Grand Place and the inevitable trip to Dandoy's.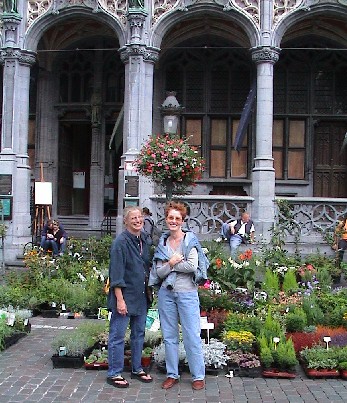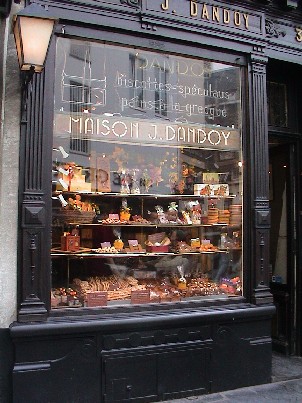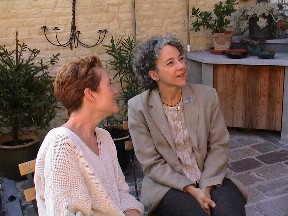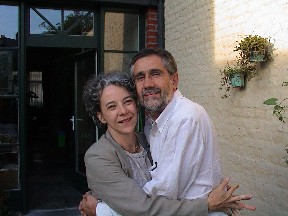 Au jardin, Rue du Tournoi, with Suzanne and Mr. T.
Americans in Heuchin

Madelaine and Alec came over and did some of their own visiting of friends before showing up to help celebrate. I took a week off before my birthday to "hang out" in Heuchin with them and Patti. A great treat for me to have P.R. as my companion, while Madelaine and Alec concentrated on being brother and sister -- an activity that they had not indulged in for some time.
While Alec and Madelaine concentrated on some of their favorite activities, Lego raking and e-mailage...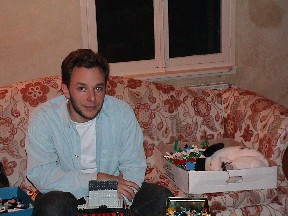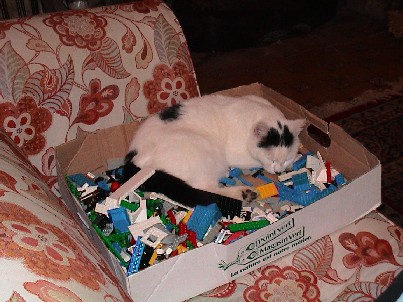 (Gaston is in charge of looking for the Lego bits. Asleep on the job as usual...)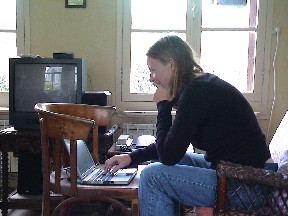 Patti and I managed to do a bit of tourism in the Pas-de-Calais, venturing as far as Cap Gris Nez. I told you September was a good month for visiting northern France!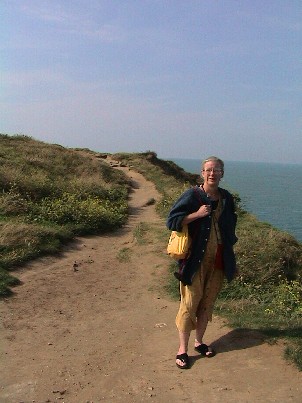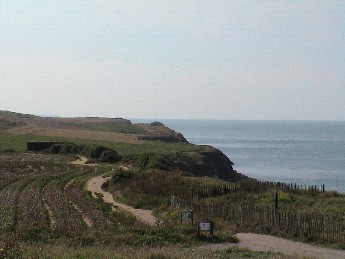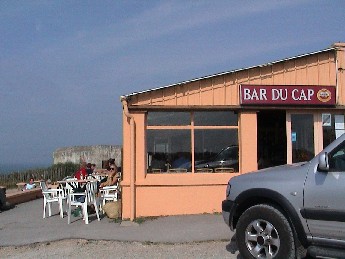 After all that hiking, we deserves a beer!

Other activities around the homestead at Heuchin included helping Nathalie celebrate her birthday. Alec and Eric had to verify the pinball machine. Madelaine made quite an impression on Faustine, who subsequently told Nathalie, 'I wish I had a mom like Madelaine'!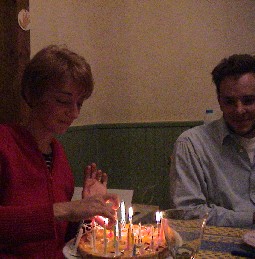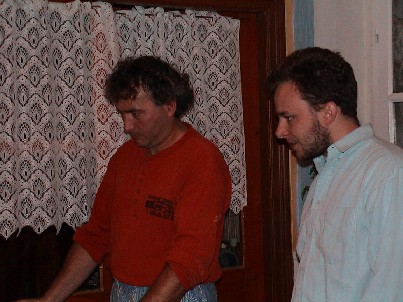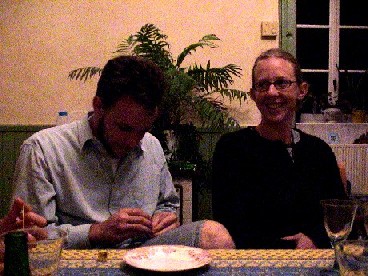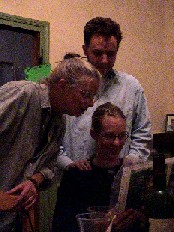 A great experience for Patti to participate in a typical French birthday celebration, including all the kids, as well as Eric's sister Delphine and her "honey", Alain. Not everyone was bilingual but it didn't seem to matter, since everyone had a good time!

Daytime activities included making room for the new chickens, rebuilding the barbeque pit, and of course, Patti in her ever relentless quest for capturing time and space (even if I did relegate her to the depths of the chicken coop!).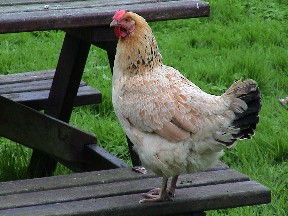 Two of the new hens.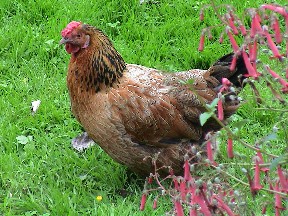 Mr. Banty Rooster and his two little hens...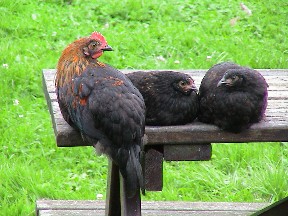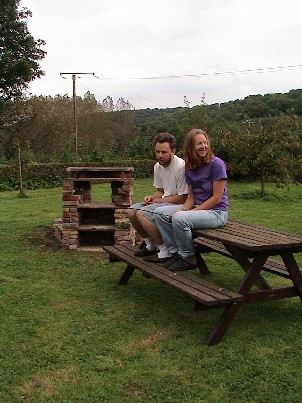 They really did move the BBQ pit, brick by brick.
Thanks, kids! You did a fantastic job. No, I'm serious. Really.
.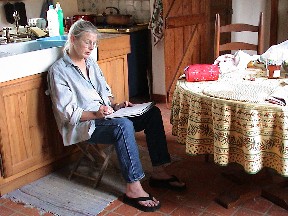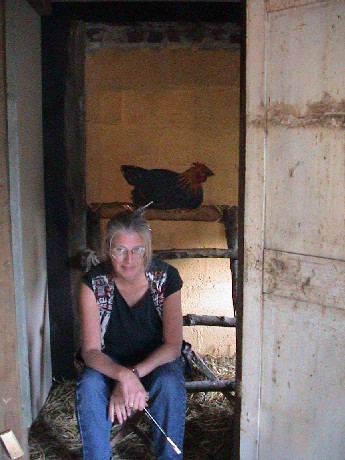 Patti sketching out the window of the kitchen.
A commissioned work: "The Virgin Hen."
(At least Patti didn't have to sleep IN the chicken coop.)
Back to Brussels
September 22, 2002. B-Day.
Apéritif before going out to eat. We were happy to have Nicole drop by with Emilie to make sure that ALL of the kids would be jealous. It seemed to work.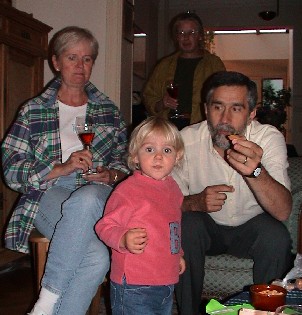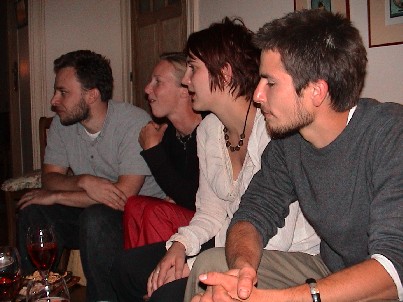 Off to the restaurant, Voyage à Travers les Sens. We had the whole place to ourselves and it was merely wonderful!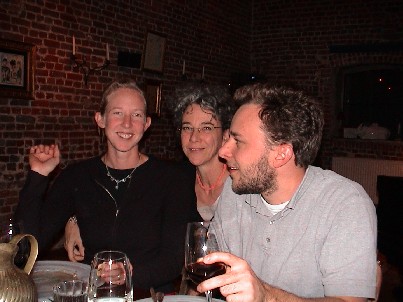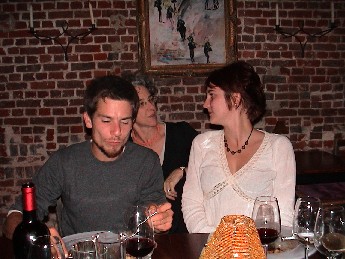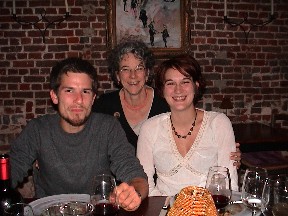 September 23, 2002
Pour Fêter Ça: Journée sans Voiture
To round out the festivities, Patti, Thierry and I wandered about Brussels on a wonderful Sunday afternoon, with nary a car in sight!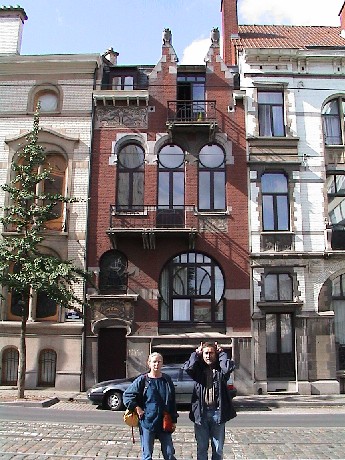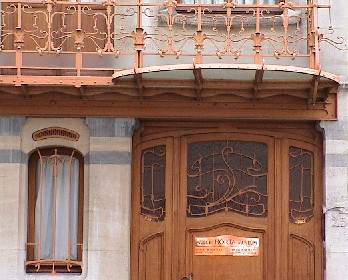 La Maison des Hibous. La Musée d'Horta.
And of course, to quench that thirst....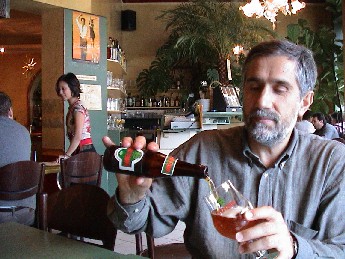 What can I say? It was wonderful! The best birthday that I've ever had. A big hug and kiss to ALL!