Spring 2005

Shades of pink: perennial geraniums in the foreground, Oriental poppies and rose, with miniature carnations in the background..



A rescued ladybug put to the task of eating the aphids on my "Madame Bovary" rosebuds.


Spring 2003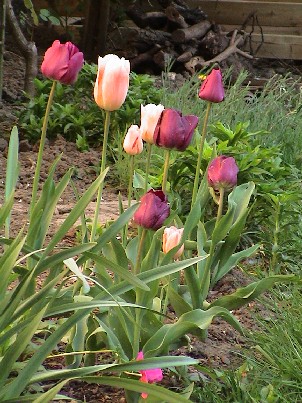 Salmon and magenta colored tulips.



Dutch Irises that would have made my grandmother, Reba Lee, very proud.



Oriental Poppy "Coral Reef", grown from seed last year
Here's how things look in late May/early June.
At last, grass.
Notice how discrete the garden shed is that Alec & Thierry built during the Christmas holidays; it has been stained to match the cedar of the greenhouse.
This serves as the entrance to the greenhouse.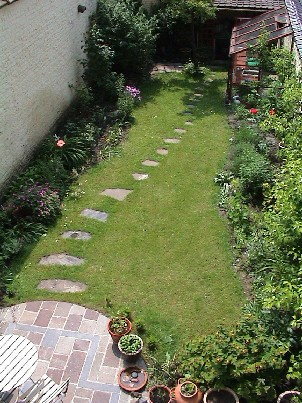 I couldn't resist incorporating some water plants in my small garden, but I didn't want the hassle of a full-blown pond, so I opted for a pool-in-a-pot, featuring spiderworts and a water iris. (As of today, about to bloom.)

Thierry's grandmother has many ancient rose bushes scattered throughout the flower beds. This one is in good company with the Dutch Iris against the garden wall.

Summer update -- July 2003
The patio features lots of pots and Charlie's water bowl that he shares with the birds.
The new fig tree, a souvenir from our trip to Provence, is just visible on the right-hand side of the photo.


... view of the backyard as seen from the greenhouse.