Aerial burial
Deland, Florida
April 10, 2004
It was a fine spring day; nice and warm, with clear, blue skies and just a hint of haze in the air. I arrived at the SkyDive Deland drop zone with Madelaine and Alec around 4 o'clock. The place was packed and as busy as a beehive with the normal Saturday activities, as well as the additional energy from the folks who had shown up for Joe's ceremony. We met Mike Johnston who confirmed that Joe's dive was scheduled for 6:17; this set the timeframe for us before being completely swept away with the memorable events as they unfurled. . We found Troy, Joe's son, and our new-found nephew/cousin, and had just a few minutes to grab a bite to eat at "The Perfect Spot". It was.
There were a lot of folks from Hawaiian Tropic that had come to see Joe off. Everyone had a kind memory to share and often a humorous Joe story to tell. Becky Andrade, one of Joe's close friends at work, brought a sports bag full of HT goodies for us to share. While Madelaine and I were inspecting the creams, lotions and lip protectors, Troy was quick to home in on, and claim for his own, the HT calendar and beauty contest video, both chockfull of incredibly buxom, tanned lovelies with promises in their smiles. It was not the only time that day that the thought "like father, like son" would cross my mind!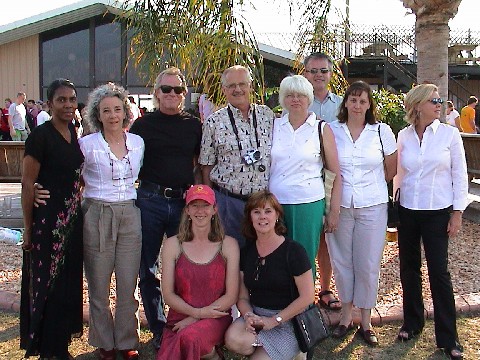 Hawaiian Tropic's Crew
That hectic, late lunch was interrupted by a call for Troy to get suited up for his first jump, something he had been waiting to do for a very long time, ever since he was a little kid hanging around the drop zone in Californias with his dad. He disappeared to be suited up.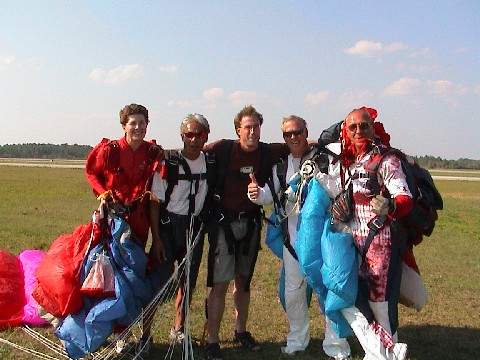 After Troy's First Dive
Annie, Joe's ex and my still sister-in-law, showed up about then and we watched and waited until Troy came in. It was such an fabulous moment -- he seemed so elated and the folks that jumped with him were just beaming with pride. I snapped a few shots and then followed Van Wideman, the cameraman, into the video lab to see his footage. Seeing his film of Troy and that huge, shit-eating grin that he had spread across his face just completely broke down all my emotional barriers as I wondered out loud why Joe couldn't have stuck around to see this. Then I realized that it was because he wasn't there that all of this was happening; despite himself, something of him was being passed on, and we were the witnesses. Annie and I had a good sob, and we were joined by one of Joe's good friends, Mike Raible, the designated diver to take up Joe's ashes.
We prepared Joe's ashes in the ash bag that Tim had so carefully prepared, detailed with Joe's birthdate, deathdate, and a patch from the 1st Marine Corps division. It looked so like him: small, precise, black; he would have approved.
To shake us back to reality, on one of the practices dives before the final preparations, one of Joe's long-standing dive buddies, Rusty Trapp, came down too hard and broke his leg, in much the same way that Joe had done a few years ago. Ambulance, helicopter, and impatient waiting to find out how badly he was hurt before he was whisked away to the hospital. Everyone knew how much pain Rusty was in, not only his physical pain, but also the real disappointment in not being there to see Joe off. (Tim told me later in the evening that Joe and Rusty, the old timers, were always the pair that secured the back hatch of the skyvan when they went up together. During the air burial, their absence was all of a sudden palpably when neither one of them were at their usual post.)
We headed for the big pavillion at the back of the building to watch the dirt dive preparations. Fifty-one skydivers milling about in some semblance of order, orchestrated by Carl. Somewhat better than trying to herd cats, but barely. Annie distibuted a pink carnation to each diver, quietly murmuring to me that Joe hated pink, and we felt somewhat mischievious for doing something that he would NOT have liked.

Charlie, the Anvil, and Richard
At one point, I was approached by a uniformed veteran, Bob Balzer, who offered to say a pray on Joe's behalf. Difficult moment: how could I kindly tell this well-meaning man that if my brother thought that someone was about to utter a pray he would try his best to reconstruct himself and wreak havoc, or maybe just leave the party. Did he know my brother? Yes, he jumped with him. Relief! Would he just join with all of us and say a few words of his own? He agreed. As the divers loaded into the planes, he stood at attention by the flagpole that I had not even noticed until then. The planes took off one by one, and Bob lowered the flag to halfmast. It was very fitting and I was glad that this unexpected guest had appeared to represent yet another chapter of my brother's life: his part in and great respect for the Marines.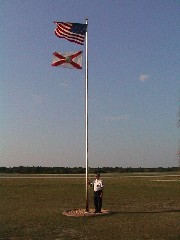 We, the Morgan clan, stretched out comfortably in the grass together to watch the ceremony. First Annie, next to Troy, then Alec (who so gallantly offered to film) next to me with Madelaine on my other side. I was holding her hand all along and listening to Annie who explained to us newbies how things were going to happen. "The planes are going to draw together in a tight formation", she said, and they did. Then little sparkling almost invisible dots began to glitter in the sky behind the planes. As we strained our eyes to see, an almost Brownian movement seemed to assemble the glittering specks into one seemingly organic mass. At the moment of certainty, just when it was clear that they were all together, poof! an enormous, white plume rose into the heavens. "What a gift he has given us today!", Madelaine said to me as we squeezed each other's hands while tears, mainly of joy and some of sorrow, streamed down our faces. No sooner was Joe released into the sky did the skydivers begin to peel away, to inevitably join us on the ground.
Afterwards, we all gathered at the gravel pit to say our farewells to Joe and to share with those left behind some memorable stories. A persistent theme ran through these stories: his warm smile, his generosity, his often dark humour, and his awareness that life is grim business. Bob Hallett summed it up by saying that he didn't condone what Joe had done, nor did he judge him for it. He reminded us all that if you have a problem, don't keep it to yourself, but turn to your friends, and concluded by shouting "Blue skies" to which everyone replied "Black death". More appropriate under the circumstances than "amen".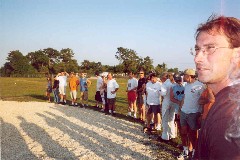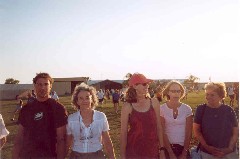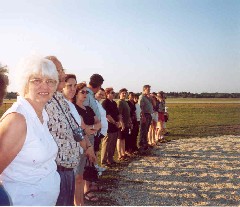 Gravel Pit Gathering
We saw off friends and co-workers as other engagements took them away. A tight knit group gathered around the campfire area, staring into the cold ashes of last night's fire. As night fell, a fellow diver wandered over and started a nice fire for us and this was the stage for the rest of the evening's events. We spent a lot of time getting to know each other and Joe's friends. It was a most incredible experience, basking in Joe's memory as told by those who knew him well.
I was enthralled with my newly discovered nephew, and delighted that he had hit it off so well with my kids and with Annie. I watched in awe as Madelaine spun poi, the soft blue lights etching designs in the air guided by her gracefull, serene movements. This, too, seemed like an offering to her uncle, whom she was just getting to know, and to us, those that knew him a bit better. We were happy being together as family, and it was important for the kids to find out who they were and where they came from even if the family history is not as simple or as rosy as we were told it should be.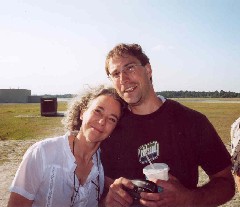 Auntie Lee and Troy
The Cousins
Blue skies, black death, and more blue skies.
P.S. Many thanks to Tim and Van for everything...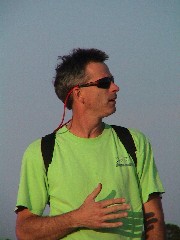 Tim Webb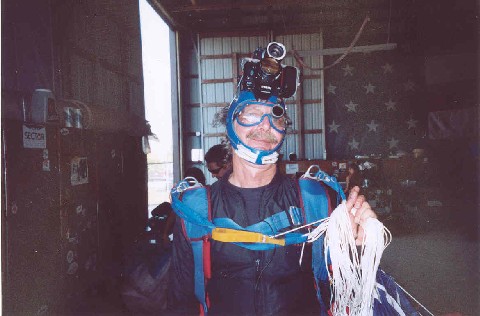 [Photo by Alec Plauché, 2004.]
Van Wideman
Lost Man Formation
Perris Valley, California
April 10, 2004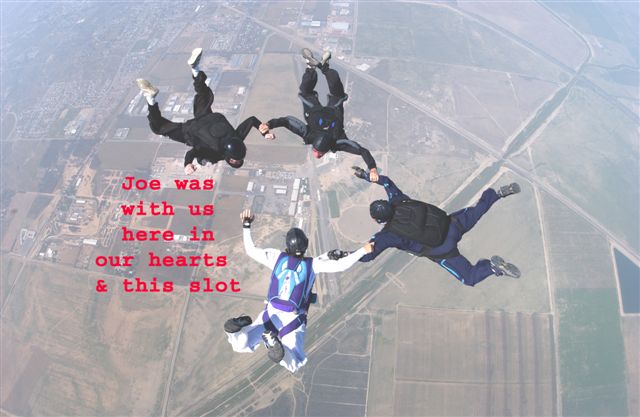 [Photo by Steve Scott, 2004.]
Joe Morgan Elsinore Memorial Skydive
Elsinore, California
April 10, 2004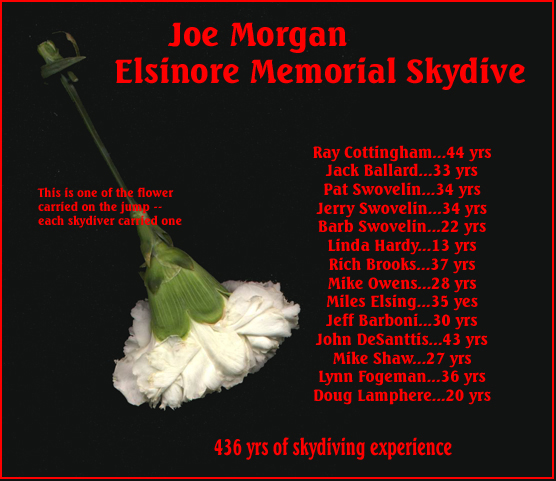 [Thanks to Bill Davis, 2004.]
The participants in Joe's Elsinore dive are shown below.


[Thanks to Pat Swovelin, 2004.]
The 13-way formation...


[Thanks to Pat Swovelin, 2004.]
For complete photo coverage, check out this site.